Never miss an opportunity with
Job Alerts
We'll make sure the latest, most suitable retail jobs are sent straight to your inbox with Job Alerts, so you don't miss out on the perfect retail job. Job Alerts are instant, and you can apply to the roles we send you with just one click.
Login to view your Job Alert preferences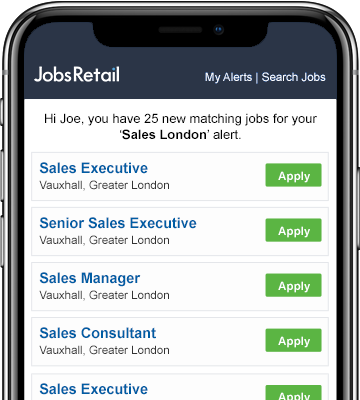 Features of Job Alerts
They're simple and easy to set up in minutes
All we need to know is your preferred retail job title/keywords and your location, so we can keep you up-to-date with job postings from our recruiters as soon as they're submitted to JobsRetail.
You'll receive them instantly!
We don't want you to miss out on what could be the perfect role, so that's why Job Alerts work in real-time. You'll receive an email from us to notify you of the newest and most suitable retail jobs as soon as they're available.
View your alerts and apply, anywhere.
If you've uploaded your CV and a covering letter to your JobsRetail account, you're able to apply to jobs you receive through Job Alerts at any time, anywhere. Apply with 1-click from your mobile, tablet or desktop.